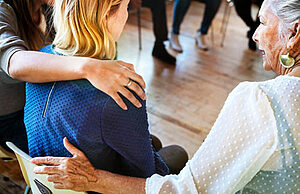 At Texas Recovery Center, we tackle the difficult journey of recovery head-on, offering comprehensive substance abuse treatment programs tailored to the unique needs of our patients. Whether it's a battle against alcohol, opioids, or other drugs, our treatment programs in Texas deliver an integrated and holistic approach to care. Through a blend of therapies, a supportive community, and a dedicated team of professionals, we strive to empower those in our care. For substance abuse treatment programs that prioritize patient success, Texas Recovery Center is here to help.
Call 888.298.5468 today to discover how substance abuse treatment on our sprawling resort can make a difference.
Types of Addictions Treated at Texas Recovery Center
Our substance abuse treatment programs in Texas are designed to address a wide range of addictions, including but not limited to:
Adderall addiction – When prescribed, Adderall can be a helpful medication. However, misuse can lead to addiction. Our program aids in breaking this dependence and instilling healthier habits.
Alcohol addiction – If alcohol has taken hold of your life, our treatment program helps patients build a foundation for lifelong recovery.
Benzo addiction – Dependence on benzodiazepines can be debilitating. We offer a comprehensive program to help patients overcome this addiction.
Cocaine addiction – Cocaine misuse can spiral out of control quickly. Our treatment protocol aids in breaking the cycle and starting anew.
Drug addiction – Our program offers a robust approach to various drug addictions, helping patients regain control over their lives.
Fentanyl addiction – Fentanyl is an extremely potent synthetic opioid. Our specialized program helps patients break free from its grip.
Heroin addiction – Withdrawing from heroin can be challenging. We support patients through this difficult time and help them on their path to recovery.
Marijuana addiction – Despite common misconceptions, marijuana can be addictive. We are dedicated to helping patients overcome this dependence.
Meth addiction – Methamphetamine is highly addictive and can have severe health consequences. Our program aids in quitting meth and rebuilding a healthy lifestyle.
Opioid/opiate addiction – Opiates are often prescribed for pain relief but can lead to addiction. Whether prescription or illicit, our recovery program can help manage and overcome opioid dependence.
Painkillers addiction – Prescription painkillers can lead to significant addiction. Our treatment program helps patients manage withdrawal and build lasting recovery.
Prescription drug addiction – Misuse of prescription drugs can have severe consequences. Our program helps patients regain control and restore health.
Xanax addiction – Our comprehensive program helps patients manage Xanax dependence and move towards a healthier future.
At every turn, our patients experience compassionate care from a dedicated treatment team.
How to Know if You Need Substance Abuse Treatment
If you're unsure whether our substance abuse treatment programs are right for you, consider the following factors:
Are drugs or alcohol affecting your relationships with friends and loved ones?
Have you experienced legal consequences due to drug or alcohol use?
Do you feel a strong urge to use drugs or alcohol despite negative consequences?
Have you tried to quit on your own without success?
Do you experience withdrawal symptoms when attempting to stop using drugs or alcohol?
If you answered yes to any of these questions, it may be time to consider seeking help through our substance abuse treatment programs in Texas.
Call Texas Recovery Center Today
Recovery is within reach. Connect with Texas Recovery Center today to learn more about our substance abuse treatment programs and find out how we can help you or your loved one overcome addiction. Our team is committed to providing the highest level of care and support throughout your journey towards a healthier, happier life. Don't wait any longer—call 888.298.5468 or contact Texas Recovery Center online today to get started. We can answer any questions, verify your insurance, and help you access the care you need.