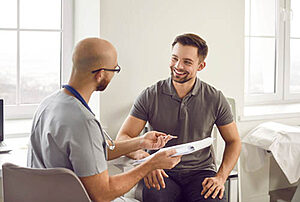 Detox is one of the most challenging parts of the recovery journey. It's a reason why many people struggling with addiction never seek treatment. The fear of experiencing withdrawal symptoms can be overwhelming and discouraging—but it doesn't have to be. Medical detox programs offer a safe and effective way for patients to withdraw from drugs or alcohol under the supervision of medical professionals. At Texas Recovery Center, our medical detox program supports patients during the crucial first step toward recovery. Through medical care and emotional support, we help patients build a foundation for lifelong sobriety.
Call 888.298.5468 today to learn how our alcohol and drug detox center in Texas can support your recovery journey.
Medical detox, also known as medically assisted withdrawal or simply detox, is a process that helps participants safely stop using drugs and alcohol while managing any potential withdrawal symptoms. Withdrawal is a natural response to the absence of substances that the body has become dependent on. However, withdrawal symptoms can be uncomfortable and sometimes even dangerous if not managed properly.
At our medical detox center, we understand that each patient's experience is unique and requires personalized care. Our team of medical professionals provides tailored treatment plans for each patient to ensure they have a safe and comfortable detox experience. By addressing the physical and emotional aspects of withdrawal, patients can focus on their recovery journey without being consumed by uncomfortable symptoms.
How Can Medical Detox Help in Recovery?
Medical detox is the first step in a comprehensive addiction treatment program. It aims to help patients break their physical dependence on drugs or alcohol so they can fully engage in therapy and other treatments. Without medical detox, patients may struggle to focus on their recovery due to the intense physical and emotional discomfort of withdrawal symptoms.
Additionally, medical detox programs provide a safe and supportive environment for patients to begin addressing the underlying causes of their addiction. It allows them to take a break from the stressors of daily life and solely focus on their recovery. By combining medical care with therapy and other treatments, medical detox can help patients develop healthy coping mechanisms and strategies for relapse prevention.
What Does Medical Detox Involve?
Medical detox at Texas Recovery Center includes a range of services designed to support patients during their withdrawal process. These may include:
Medical assessment and monitoring – Our team of medical professionals will assess each patient's physical health upon admission, monitor vital signs, and provide medications to manage withdrawal symptoms.
Emotional support – Our team of therapists and counselors will provide patients with emotional support as they navigate the challenges of detox. They can also help address any underlying mental health issues that may contribute to addiction.
Nutritional support – A healthy diet is crucial for recovery, but it can be challenging to maintain during detox. Our team provides nutritious meals and snacks to help patients stay nourished and hydrated during their stay.
Holistic therapies – We offer a variety of holistic therapies to help patients relax and find inner peace during this challenging time.
Once the patient has completed medical detox, they will be ready to transition into our residential treatment program or other appropriate level of care.
Contact Texas Recovery Center to Get Started
If you or a loved one is struggling with addiction, our medical detox program in Texas can help. On our sprawling campus, patients can focus on their recovery in a serene and supportive environment. Every step of the way, our team will be there to guide and support you towards lasting sobriety. Contact us today to learn more about our medical detox program and how we can help you on your journey to recovery.
Call 888.298.5468 or contact Texas Recovery Center online to get started.